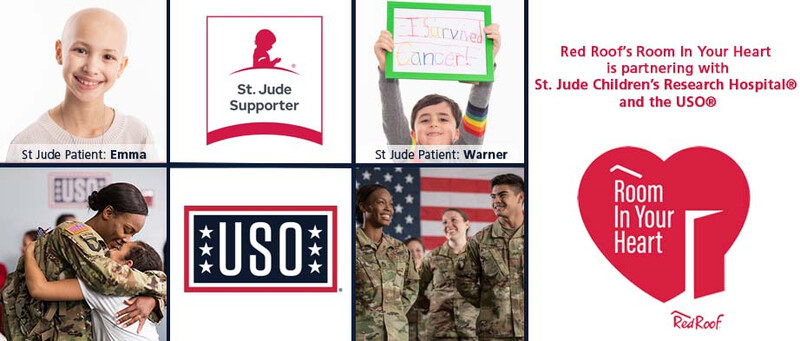 Room In Your Heart
St. Jude Children's Research Hospital® is leading the way the world understands, treats and defeats childhood cancer and other life-threatening diseases. Families never receive a bill from St. Jude for treatment, travel, housing or food—because all they should worry about is helping their child live. Join us in supporting St. Jude's lifesaving mission: Finding cures. Saving children.®
The United Service Organizations® (USO) strengthens America's military service members by keeping them connected to family, home and country, throughout their service to the nation. From the moment they join, through their assignments and deployments, and as they transition back to their communities, your support through Red Roof's Room in Your Heart ensures the USO is always by their side.
From November 15 2021, through December 31, 2021, save 15% on your stay and 5% of the purchase price from your stay completed before December 31, 2021 will be donated to the charity of your choice, with a minimum $5,000 donation going to each charity. Use VP Code 628790 to support St. Jude Children's Research Hospital®. Or use VP Code 628791 to support the USO®.
BOOK FOR ST JUDE NOW
BOOK FOR USO NOW
Red Roof has always had a deep commitment to causes near and dear and which help those in need. This sentiment is exemplified through our Room in Your Heart purpose program. Through promotional and giving initiatives, Room in Your Heart heads up campaigns to support diverse groups and the individuals and issues they serve.