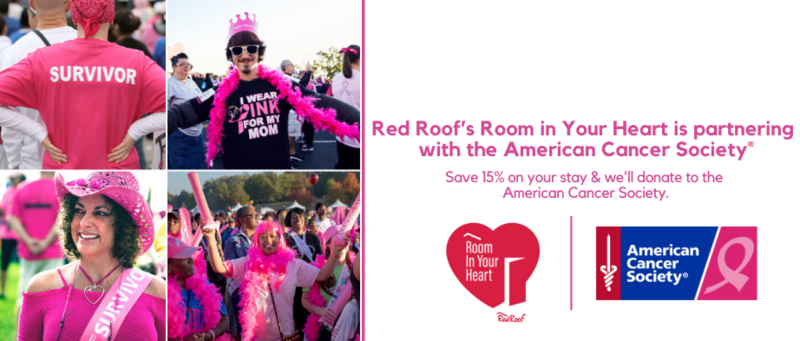 Room In Your Heart
Red Roof is turning PINK as Room in Your Heart partners with the American Cancer Society® in its fight to help end breast cancer.
The American Cancer Society is on a mission to free the world from cancer. They invest in lifesaving research, provide 24/7 information and support, and work to ensure that individuals in every community have access to cancer prevention, detection, and treatment. For more information, visit cancer.org.
Save 15% on your stay at select properties and 5% of the revenue from your completed stay booked with VP Code 628558 through October 31, 2021 goes to support the American Cancer Society. *The American Cancer Society does not endorse any product or service.
BOOK NOW
Red Roof has always had a deep commitment to causes near and dear and which help those in need. This sentiment is exemplified through our Room in Your Heart purpose program. Through promotional and giving initiatives, Room in Your Heart heads up campaigns to support diverse groups and the individuals and issues they serve.