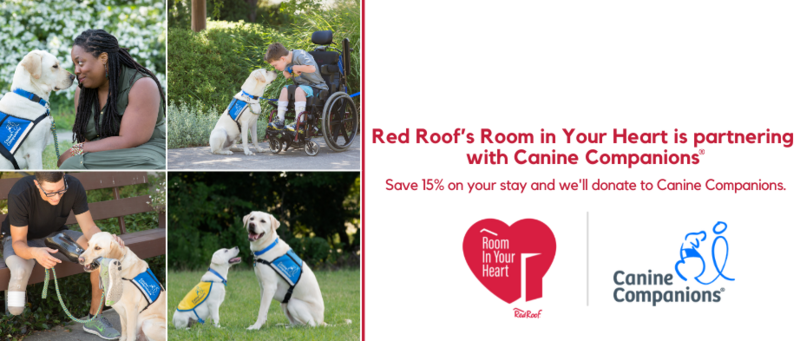 Red Roof's Room in Your Heart is Partnering with Canine Companions this Summer.
Canine Companions® transforms the lives of people with disabilities by providing expertly trained service dogs that assist with practical tasks, as well as provide unconditional love and acceptance—free of charge. This powerful relationship leads to increased independence, self-esteem, and inclusion for a person with a disability.
Save 15% on your stay at select properties and 5% of the revenue from your completed stay booked with VP Code 628474 through July 31, 2021 goes to support Canine Companions.
BOOK NOW
Red Roof has always had a deep commitment to causes near and dear and which help those in need. This sentiment is exemplified through our Room in Your Heart purpose program. Through promotional and giving initiatives, Room in Your Heart heads up campaigns to support diverse groups and the individuals and issues they serve.