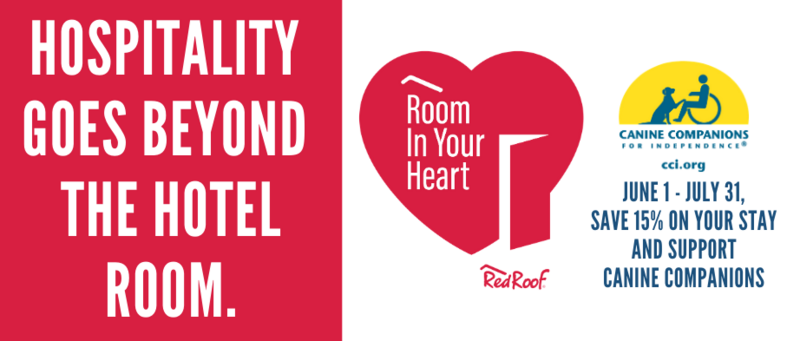 Room In Your Heart
What is Room in Your Heart?
Red Roof has always had a deep commitment to causes near and dear and which help those in need. This sentiment is exemplified through our Room in Your Heart purpose program. Through promotional and giving initiatives, Room in Your Heart heads up campaigns to support diverse groups and the individuals and issues they serve.
What organizations has Room in Your Heart supported?
Previous partners of the program include:
- United Way
- Flying Horse Farms
- Pelotonia
- Canine Companions
- The Thurgood Marshall College Fund
- Freedom Alliance
- The Mid-Ohio Foodbank
- CHA Animal Shelter
- Freedom a la Carte
- and more!
What's next for Room in Your Heart?
This summer, Room in Your Heart will be supporting Canine Companions®, a non-profit organization that enhances the lives of people with disabilities by providing highly trained service dogs at no charge to the recipient.
You can show your support of the organization and receive a discount on your stay at participating properties when you book through this Room in Your Heart promotion June 1-July 31, 2021. Follow us on social media or check back here on June 1 for promotion details.