Raleigh NCSU - Convention Center
1813 South Saunders Street, Raleigh, NC | 937-328-1597
EXPLORE DOWNTOWN RALEIGH
Video Credit. Wondering what downtown Raleigh is like? This video helps you envision your visit: parks, history, exploration, and more. Stay at our property, you're only a 5-minute drive away! BOOK NOW.
PARK PASSPORTS
Have time for a long-term trip? Come and visit the parks in Raleigh. Pick up your passport today and win prizes for your trips. A double win! Video Credit. Book Now.
DISCOVER YOUR WOW
Check out all the amenities and the beautifully renovated rooms that Red Roof Plus+ properties have to offer. Get a glimpse of the adventure and comfort that are in store for you and your family during a stay at Red Roof Plus+. Discover Your WOW! And Book Now.
Book now!
Our Faves: Local Eats
Foodies may recognize Ashley Christensen as the James Beard award-winning chef for "Best Chef: Southeast." Well, her diner is right in downtown Raleigh, only 5 minutes away from our property. Poole's Downtown Diner brings comfort food to a whole new level, with fresh ingredients coming from North Carolina farms and producers. Looking for something sweet? Learn about chocolate's origin and where it all began, grab some chocolate or a coffee, at the Videri Chocolate Factory. Less than 2 miles away!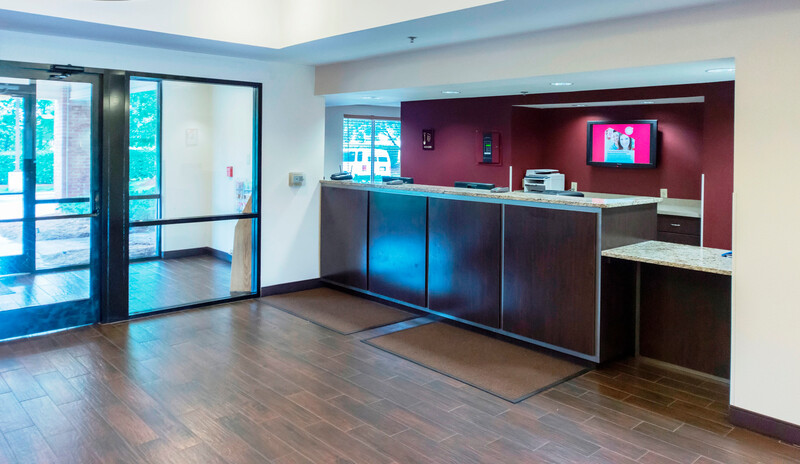 CHECK IN WITH THE FRONT DESK
Red Roof PLUS+ Raleigh NCSU - Convention Center is a pet friendly, family friendly hotel. Close to local universities, Time Warner Cable Music Pavilion at Walnut Creek, Red Hat Amphitheater, North Carolina State Capitol, and Raleigh City Auditorium. Red Roof Inn Raleigh is also near Raleigh Convention Center, Raleigh City Hall, and just off of I-40 - Tom Bradshaw Freeway. BOOK NOW!

AAA APPROVED
Red Roof PLUS+ Raleigh Convention Center has been rated 2 Diamonds by AAA; "Affordable, with modestly enhanced facilities, decor and amenities." We are proud of our rating and are excited to welcome you during your next trip to Raleigh! Book here - and remember to click the AAA Rate!

100% PET-FRIENDLY
At Red Roof Plus+ Raleigh NCSU - Convention Center, you stay happy, your pet stays free. Book now!

Nearby Dining
Enjoy a meal at Cinco de Mayo (Walking Distance), Golden Chicken and Seafood (Walking Distance), Farmer's Market (1 mile), Kick Back Jacks (1.5 miles), Tripps (1.5 miles) and Outback Steakhouse (2 miles). Great dining options within 2 miles of your stay.


REVIEWED: "Superb customer service!"
"Very good and well maintained place for the price as someone who was visiting from up North in Canada. I will definitely recommend this place to further family and friends in the future! Staff is very welcoming and understanding to your concerns at front and other departments. Thanks for a great stay until next time!" BOOK NOW.
TRANSIT
Took a plane to Raleigh? You're still in luck! Raleigh provides you with many options to be able to explore its land. Ride-sharing services include Uber and Lyft, along with a local cab service Taxi Taxi, or maybe you're more into free rides! Then check out Raleigh's R-line hybrid bus. Within every 15 minutes, this bus will make its loop around downtown until 2 a.m. Thurs-Sat. I'll take it! Book your stay!