Dillon, SC
810 Radford Boulevard, Dillon, SC | 800-733-7663
South of the Border Tourist Attraction Virtual Walk Thru
Experience all that South of the Border has to offer. Learn more.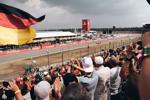 Dillon Motor Speedway
Catch a thrilling race at Dillon Motor Speedway. Just 2.2 miles away. Click here for the schedule of events.
A Dog Day Afternoon
At Red Roof Inn Dillon, "You Stay Happy, Pets Stay Free!"
Book Your Stay!
Nearby Dining
Less than 2 miles away is a Huddle House, Waffle House, BC Steak and BBQ, Shoney's, Burger King, Zaxby's, Pizza Hut, Del Sol Mexican, Kentucky Fried Chicken, and Bojangles.